GATEWAY TO THE TUALATIN RIVER
Eagle Landing is a small half-acre parcel on the east bank of the Tualatin River located off Rainbow Lane near Groner Elementary School. This park was established through a government/private partnership involving a local Boy Scout Eagle Badge project. In honor of the Eagle Scout project accomplishment, the Washington County Board of Commissioners named the park "Eagle Landing."
The amenities in the Park include a 12-vehicle gravel parking lot, picnic table, signage, and a gravel pathway that ends at the east bank of the Tualatin River. There is no lifeguard on duty and there is no improved river access. Exercise caution when approaching the bank.
AMENITIES
While Eagle Landing has no sanitation facilities, the park does feature a 12-vehicle parking lot, connecting gravel pathway, picnic table and signboard.
Eagle Landing may be used for picnicking, as well as canoe/kayak launching, and recovery. River access is considered unimproved.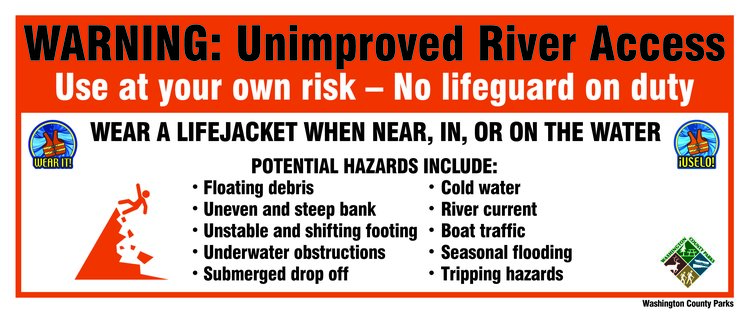 RESERVATIONS
Eagle Landing Park does not require reservations for normal use.  However, for special use, a permit is required. Special use includes activities such as competitive athletic events, large group events, weddings, family reunions, etc.
Special use applications are available by calling 503-846-7000.
HOURS
Eagle Landing Park is open seven days a week, from sunrise to sunset.
LOCATION
Eagle Landing is located at 26001 SW Rainbow Lane, Hillsboro, OR 97123.